Demographic and Socioeconomic
---
Population
The population of the Mid-Shore Region is evenly distributed between the three Counties. The most recent American Community Survey (ACS) 5-year estimates (2017-2022) show that Caroline County has experienced a slight decrease in population since the previous survey (0.08%) while Dorchester (+1.5%) and Talbot (+1.14%) have seen modest increases.
From 1980 to 2020 the population of Caroline County increased 43.86%, while Dorchester increased 6.23%. Talbot County experienced the most growth over this timeframe with a rate of 46.56%. While these growth rates are expected to continue to rise over the next 20 years, there have been some slight declines in recent years. From 2010 to 2020, the Caroline County population increased by 0.69% however Dorchester County decreased by -0.27% and Talbot County decreased by -0.68%. The Mid-Shore population overall decreased by -0.11% in this 10-year time period (Source: U.S. Census Bureau, Census 2020, 2010, 2000, 1990, 1980). Talbot County has the highest share of population of people 65 and over with a 29.1 percent rate for this age group. This concentration is due mainly to an immigration of retirees. Caroline County currently maintains the lowest percentage of people 65 and over, with 16.4%.
Geographic, Climatic, Environmental and Natural Resources
---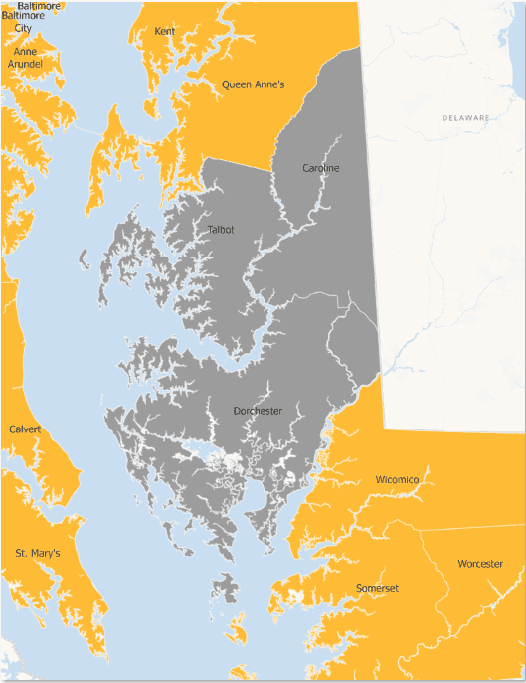 Geography
The Mid-Shore Region includes Caroline, Dorchester and Talbot Counties and comprises 1,172.63 sq mi of land. Caroline has 320.79 square miles of land and 120 miles of shoreline, Dorchester County has 593.22 square miles of land and 1,539 miles of shoreline and Talbot County has 258.62 square miles of land and 605 miles of shoreline. (Maryland geological survey 2011).
Both Dorchester and Talbot Counties are strongly influenced by water and have a high concentration of areas in the 100-year floodplain, Critical Areas, and in wetlands. Caroline County is the only county on the Eastern Shore which is not bordered by either the Atlantic Ocean or the Chesapeake Bay. Most of the region is flat. The highest elevation in the region, 77 feet above sea level, is at a site approximately one-half mile north of Mt. Zion in northern Caroline County.
The region is easily accessible by road, air, rail, or water by the New York/Philadelphia/Norfolk corridor. More than 30% of the nation's population and 36% of its manufacturing establishments can be reached overnight by truck or train.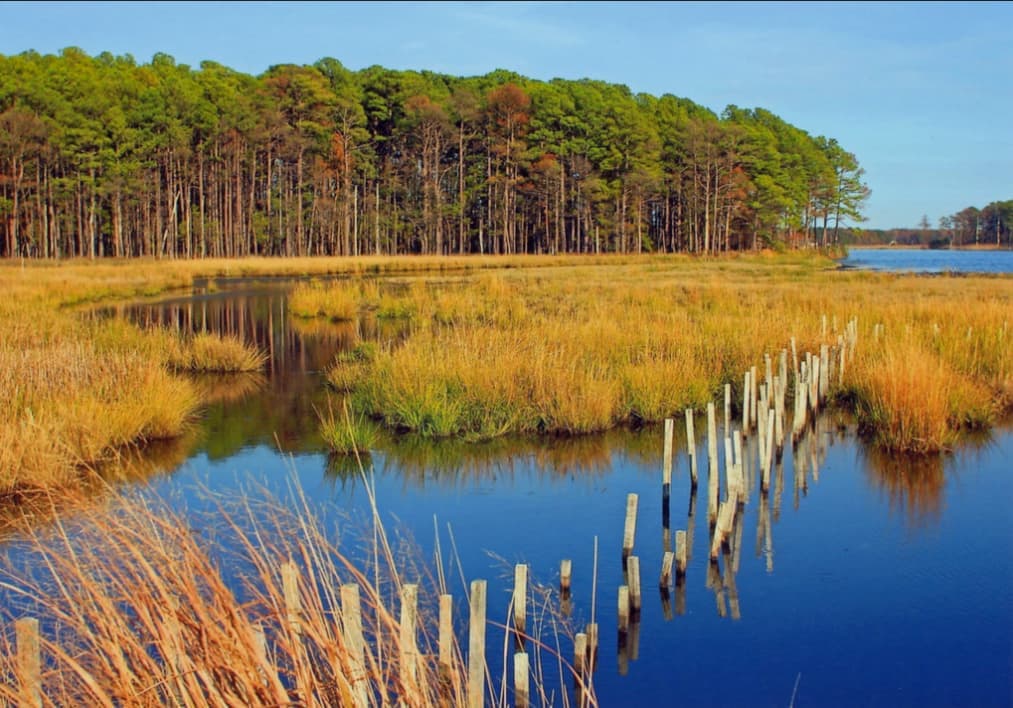 Climate
The region has a temperate climate with warm summers and moderate winters. The highest temperatures usually occur in the months of July and August. The months of January and February have the coldest temperatures. Summer often brings several periods of hot, humid weather. The average length of the growing season is approximately 196 days. Precipitation averages 43.2 inches annually. Prevailing breezes are from the south in the summer. During the winter months, the prevailing winds come from the west and northwest.
Floodplains
Due to the limited size of watersheds, wide-stream beds and general topography, flood elevations are relatively modest in Caroline County. When flooding does occur, it is typically low in velocity and destructive potential. Much of this land is also wetland and otherwise unsuitable for development. In the unincorporated portions of Caroline County, there is relatively little existing development in the flood plain. Little future development in these areas is anticipated due to the general unsuitability of most of this land for development, as well as the County land-use restrictions now in effect. The only portion of the County with a substantial flooding problem is the Town of Federalsburg. About one-third of the community lies within the flood plain of the Marshy hope Creek, including almost the entire downtown business district. In addition, a limited residential area in Greensboro is also located in the flood plain of the Choptank River.
Over half (57.4%) of Dorchester County lies within the 1%-chance floodplain. The vast majority of the floodplain area in the County is tidal floodplain areas susceptible to flooding by high tides, hurricane storms, and on-shore winds. As of 2016, 28.6% of the county's residential properties intersected the 1%-chance floodplain area. The county has taken several important steps to increase its resilience to floods, particularly the adoption of a floodplain management ordinance that requires new construction to be built at least 2 feet above the predicted 1%-chance flood height.
Floodplains in Talbot County are located primarily in the western portion of the county along the various necks and Chesapeake Bay shoreline. Small areas of floodplains are located further inland in association with perennial streams, and near southeast portion of the Choptank and Tuckahoe Rivers. Virtually all land west of Route 50 is in the 1%-chance floodplain. Construction is discouraged but permitted in Flood Zone A as long as code requirements are met.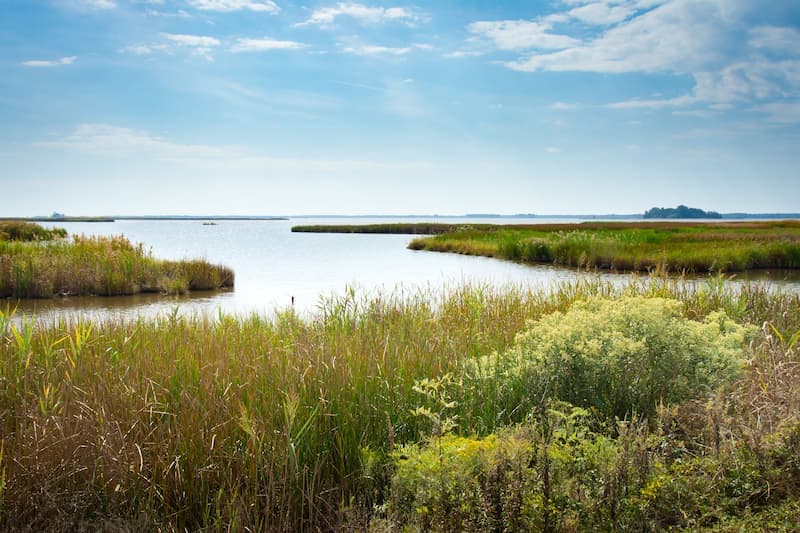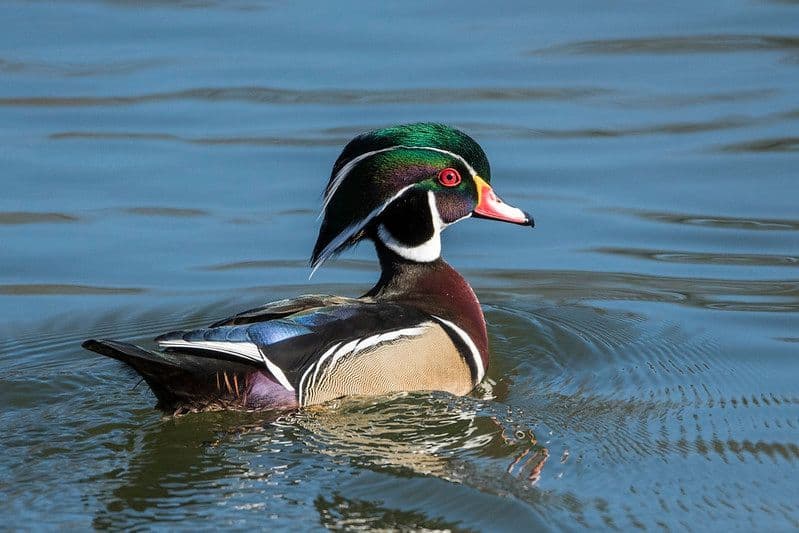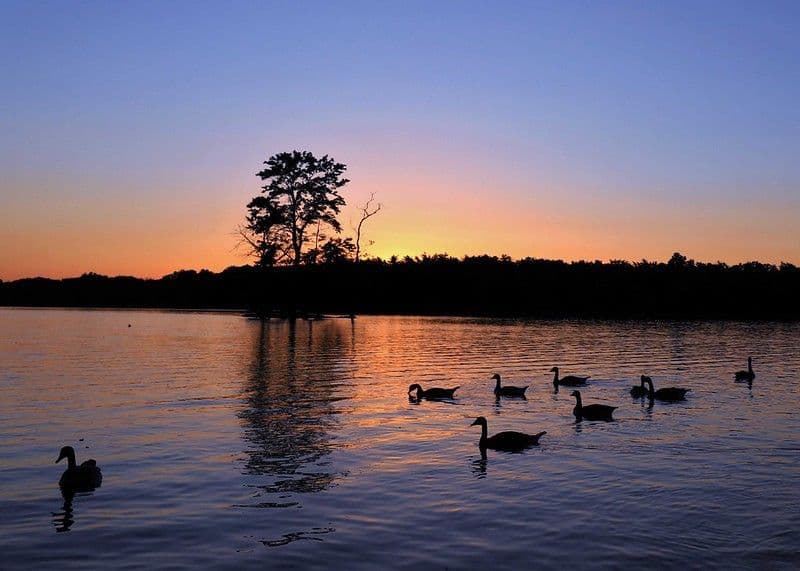 Wetlands
The region's topography and surface water patterns have created a considerable variety and quantity of tidal and non-tidal, marsh, and forested wetlands. These wetlands are a critical habitat for many forms of plant and animal life, with several species listed as endangered.
Caroline County has a considerable variety and quantity of wetlands. These occur as both tidal and non-tidal, marsh and forested. In all, there are 3,392 acres of wetlands in various categories. Tidal wetlands occur along all the tidal streams in Caroline County, but they are principally found along the Choptank River and Tuckahoe Creek and their major tributaries. Wetlands in Caroline County face little potential threat from residential, commercial or industrial development. These sites are generally not suitable for development by virtue of their soils, foundation suitability, sewage, disposal suitability and flood potential. In addition, there is no significant development pressure for water access developments in Caroline County to further threaten tidal wetlands. Those wetlands in tidal areas will eventually be impacted by sea-level change.
Dorchester County has extensive non-tidal wetlands. The County's approach to stream buffer protection outside the critical area will be to continue to assist property owners and developers to comply with current state law governing the protection of wetlands. Given Dorchester County's flat terrain, a 25-foot buffer from wetlands has been established to help protect streams and wetlands.
Talbot County contains a significant amount of tidal and non-tidal wetlands located mostly near the shoreline, although some inland riparian wetlands do exist. As of 1997, 4,916 acres or approximately three percent of the County's 172,000 acre total are wetlands. The County has implemented a number of safeguards in order to prevent impact on wetlands. For tidal wetlands, a 100-foot setback is required, while a 25-foot setback is required for non-tidal wetlands. Over the past several years, a small amount of wetlands have been lost due to mitigation for development. A significant project, the St. Michael's bypass, was not constructed due to the fact that it would have impacted on wetlands on the area. This is the only major project in the County's recent history to have been adversely impacted by the presence of wetlands. Any wetlands that are part of a residential development are used for the most part to meet the open space requirement.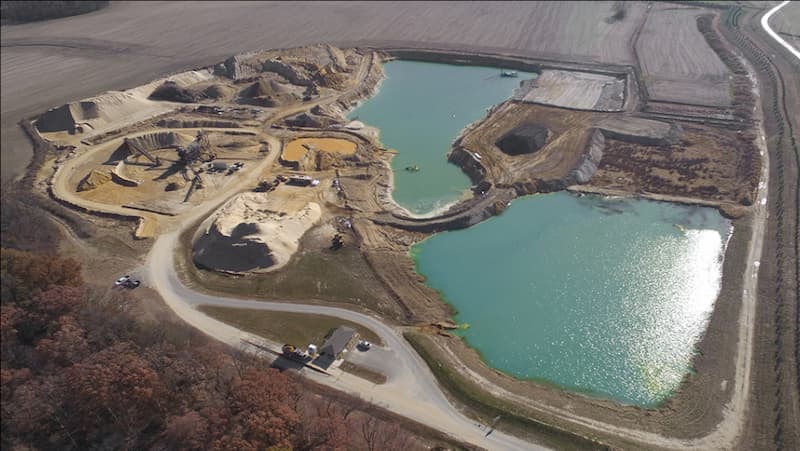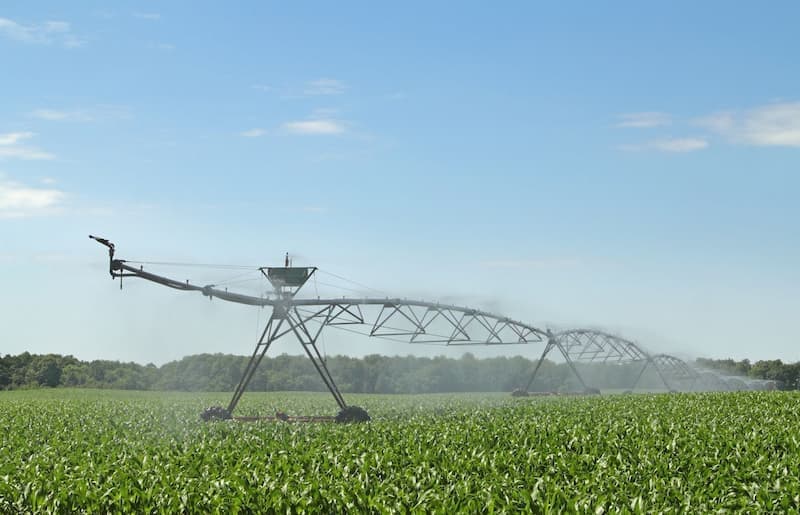 Minerals
The Eastern Shore of Maryland has been identified by the mining industry as a high value target area for sand and gravel operation. The vein of high grade sand is unparalleled in the Mid-Atlantic region. Historically there have always been small sand operations, 10 to 20 acres that provided material for regional road projects and create value added opportunities for our farmers in the region. When they are closed the pits become natural areas or irrigation ponds that become assets to the community or farmer.
Now we are seeing applications being made for 500+ acre operations that will have a dramatic impact on our communities in the form of noise, heavy truck traffic and dust. It is important for the Mid-Shore Regional Council to locate model policies that other regions have used to manage the growth of these operations, maintain quality of life and generate tax revenues associated with resource extraction.
Air Quality
Air quality in the Region is generally considered to be good due to its rural nature and the lack of heavy industrial use. Light industrial operations have been concentrated in certain areas and thus do not contribute to degradation of the air quality.
Groundwater
The region has a variety and abundance of groundwater resources. The Mid-Shore Region experienced one of the wettest summers in recorded history in 2003. However, the Mid- Shore Region is situated on vast aquifers. The entire Shore has the availability of 1 million gallons of water a day, and Dorchester County has the availability of 5 million gallons of water a day.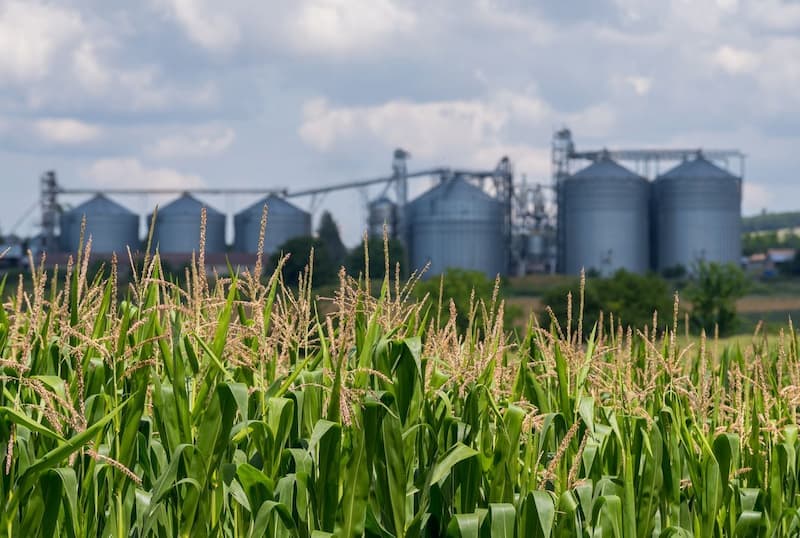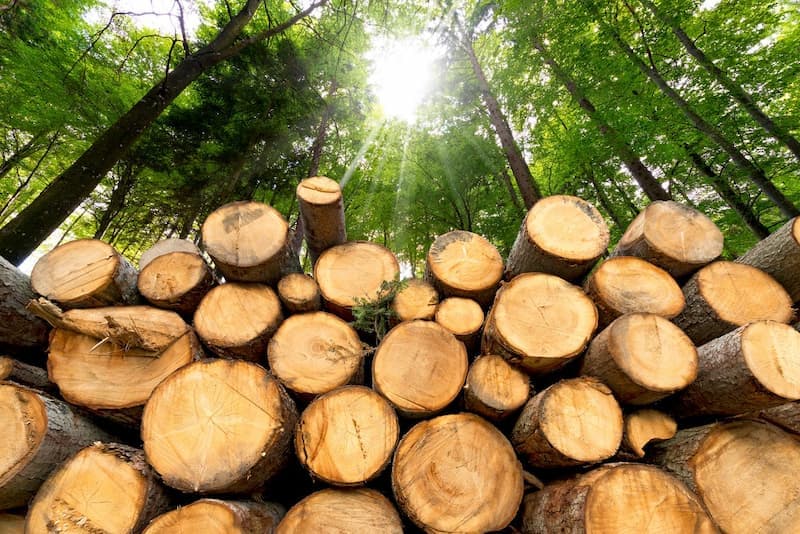 Forest and Farm Lands
Historically, one of the most significant natural resources in the region was its forest lands. This remains true today; however, the industry that provides markets for products harvested from forests has declined in recent decades and impacts the ability of landowners to invest in this natural asset. The woodlands are of high quality for forestry and ecological purposes, providing significant value for habitat, water quality and wood production potential. Lacking is a diversity of markets to support the cost of managing these forests to their full potential. In 2010 new land use categories were added to the data collection process by the Maryland Department of Planning as it relates to forested lands, and 2002 and 2010 data were updated. Caroline County went from 60,162 acres in 2002 to 59,122 acres in 2010, which is a loss of 1.7%. Dorchester County went from 127,209 acres to 126,705 acres, which is a loss of 0.4% from 2002 to 2010. Talbot County had 41,270 acres in 2002 and 40,513 acres in 2010, which is a loss of 1.8%.
In the Mid-Shore Region there are 353,840 acres of land in farms which includes both cropland and forest lands (Census of Agriculture 2017). Farm lands play an important role in the natural environment by providing critical wildlife habitat. Their presence in the region adds to the area of open spaces and plays an important role in the region's economy. According to the most recent Agricultural Census, the amount of land in farms in Caroline County decreased by 15% between 2012 and 2017, and the number of Caroline County farms decreased in 2017 to 588 from 658 in 2012. The amount of land in farms in Dorchester County increased by 5% from 2012 to 2017, while the number of farms decreased from 423 farms in 2012 to 371 farms in 2017. The amount of land in farms in Talbot County decreased by 22% and the number of farms decreased by 3% from 328 farms in 2012 to 317 farms in 2017.
The natural environment has been one of the region's greatest assets in terms of quality of life and potential for developing natural resource-based industry clusters. Ironically, this factor also limits the development of the area. The region's unspoiled nature has attracted a large number of visitors and new residents. Conservation efforts to retain open space for all its attendant values are aggressively pursued in the Mid-Shore. Both forested and agricultural land is often 'targeted' for protection, which, depending on the particular easement, can actually result in removing portions of productive forest and farm lands from operation. The farming community is concerned that these conservation measures may retire prime farmland. The challenge will be to preserve the unique characteristics of the Mid-Shore region while still providing services to an ever-growing population.
Land Use Patterns
In Caroline County, the largest proportion of land has traditionally been agricultural and only a small percentage of farmland is included in agricultural preservation lands. Land for single-family residential development has been and will continue to be taken from the available agricultural lands. Little changes in commercial or industrial land use areas are expected. Current zoning for rural areas allows one dwelling per 20 acres, As a result of Smart Growth policies, and a stronger focus on land preservation, it is anticipated that low density growth can be slowed, but not stopped. The planning department has noted that as more growth continues in the state and region, more land will be lost to development of the expensive resource lands.
In Dorchester County, 90 percent of the land is zoned agricultural and resource conservation area with the remaining 10 percent residential and commercial. The County continues to experience scattered development. The County's comprehensive plan states that new growth is targeted to designated growth areas, particularly the Route 50 and Route 16 corridor. Significant opportunities exist for expansion of existing industrial parks.
Most of the growth in Talbot County is in and around the towns. The population of Easton represents one-third of the County's population and the population in incorporated towns represents approximately 50 percent of the County's population. Thirty-percent of its land mass is in the Critical area, which is one of the highest proportions of any county in the State. In the Critical Area, only one housing unit per 20 acres may be constructed. Fifty percent of the land in the County is agricultural. Therefore, 80 to 85 percent of the County is in low density development. The balance of the County consists of rural communities and one small cluster development. The County is beginning to see evidence of a minimal amount of sprawl with increasing development around towns.
Infrastructure
---
One of the Region's major advantages is its accessibility to major markets in the New York/Philadelphia/Norfolk Corridor. The area is readily accessible by road, air, rail or water. More than 30 percent of the nation's population and 36 percent of its manufacturing establishments can be reached overnight by truck or train.
Airports
Scheduled passenger air transportation in this area is available from the Salisbury-Ocean City Wicomico Regional Airport, Easton Airport (the second busiest airport in the state), and the Cambridge-Dorchester Regional Airport. All three of the airports are capable of landing small jets. There is also a privately owned airport in Caroline County, Ridgely Air Park. The Cambridge-Dorchester Regional Airport is petitioning for a runway expansion. Charter air services are available at Easton Airport and Cambridge-Dorchester Regional Airport.
The mid-shore airports' economic impacts are:
| | | |
| --- | --- | --- |
| | Easton Airport | Cambridge-Dorchester Airport |
| Business Revenue | $48,506,000 | $6,432,000 |
| Total Employment (jobs) | 494 jobs | 161 jobs |
| Personal Income | $25,914,000 | $6,737,000 |
| State and Local Taxes | $6,667,000 | $1,224,000 |
Sources: https://flycge.com/ and https://eastonairport.com/
The distance to the nearest primary commercial airport in miles from Caroline County is 65 miles, from Dorchester County is 80 miles, and Talbot County is 61 miles.
Baltimore/Washington International Thurgood Marshall Airport, Ronald Reagan Washington National Airport, Washington Dulles International Airport, and Philadelphia International Airport also serve the region.
Major Industry Clusters
---
Manufacturing
While manufacturing jobs have shown an overall decline in the region for the last two years, manufacturing continues to support high paying wages and incomes in Dorchester, Talbot and Caroline Counties. Manufacturing represents approximately 10.5% of the workforce in the three county areas with Dorchester County reporting the highest percent of manufacturing in the state. Maryland Department of Labor License and Regulation (DLLR) indicate that 2016 demographics showed 19.8% of the jobs in Dorchester County were based in manufacturing with 12.5% in Caroline County and 4.1% in Talbot County. Manufacturing jobs are diversified in the Mid-Shore area and represent many sectors. A concentration of industry sector activity can be found in the microelectronics and telecommunications, fabricated metal parts, wire mesh and wire molded products, food processing, boat building, plastics and the print industries.
The majority of growth for the Mid-Shore Region in manufacturing is coming from the existing business base as employers seek to introduce new products, develop new markets and consolidate existing operations. The region is seeking to preserve its industrial zoned property with rail siding for manufacturing use while it expands and develops more infrastructure and manufacturing capacity. The Mid-Shore Region currently supports industrial and technology parks in each of the major population centers but is witnessing a shortage of modern flexible manufacturing buildings. The MidShore Region seeks to further develop industrial and technology infrastructure for parks so that new facilities can be attracted to the area while existing manufacturing will be accommodated in their expansion efforts. The Mid-Shore Region has been working collectively on marketing the region as the Environmental Peninsula to attract technology-based manufacturing that can benefit from the federal and state laboratories located in the region and the environmentally sensitive surroundings. Industries such as Geospatial Information Systems (GIS), Mapping, Scientific Instrumentation, Software Development, Data Collection, Remote Sensing and Value-Added Agribusiness opportunities are being explored as a core area for future development in the region.
Quality of Life
---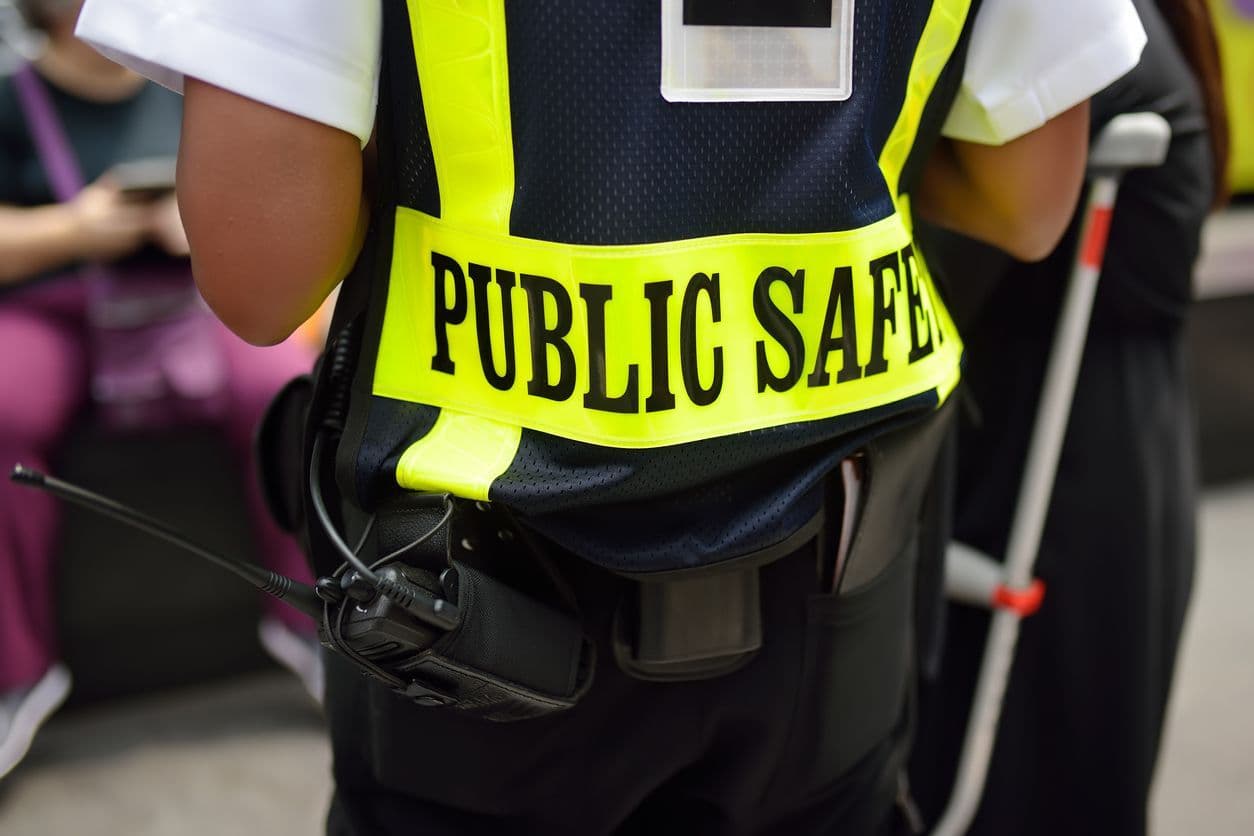 Public Safety
Talbot County
The Talbot County Sheriff's Department experienced a 52.6 percent decrease in violent crime for the period from 2000 to 2019. In the 3 years preceding 2019, Talbot County saw a decrease in violent crime of 30.6 percent. In Talbot County, municipal forces exist in Easton, St. Michael's and Oxford. The Sheriff's Department is active in the full-range of community policing initiatives including D.A.R.E., Triad, traffic safety grants and M.A.D.D. Talbot Partnership. The major problems in the Talbot County area in terms of law enforcement are drug-related, although there has been an increase in the number of domestic violence cases.
Source: Governor's Office of Crime Control and Prevention, 2019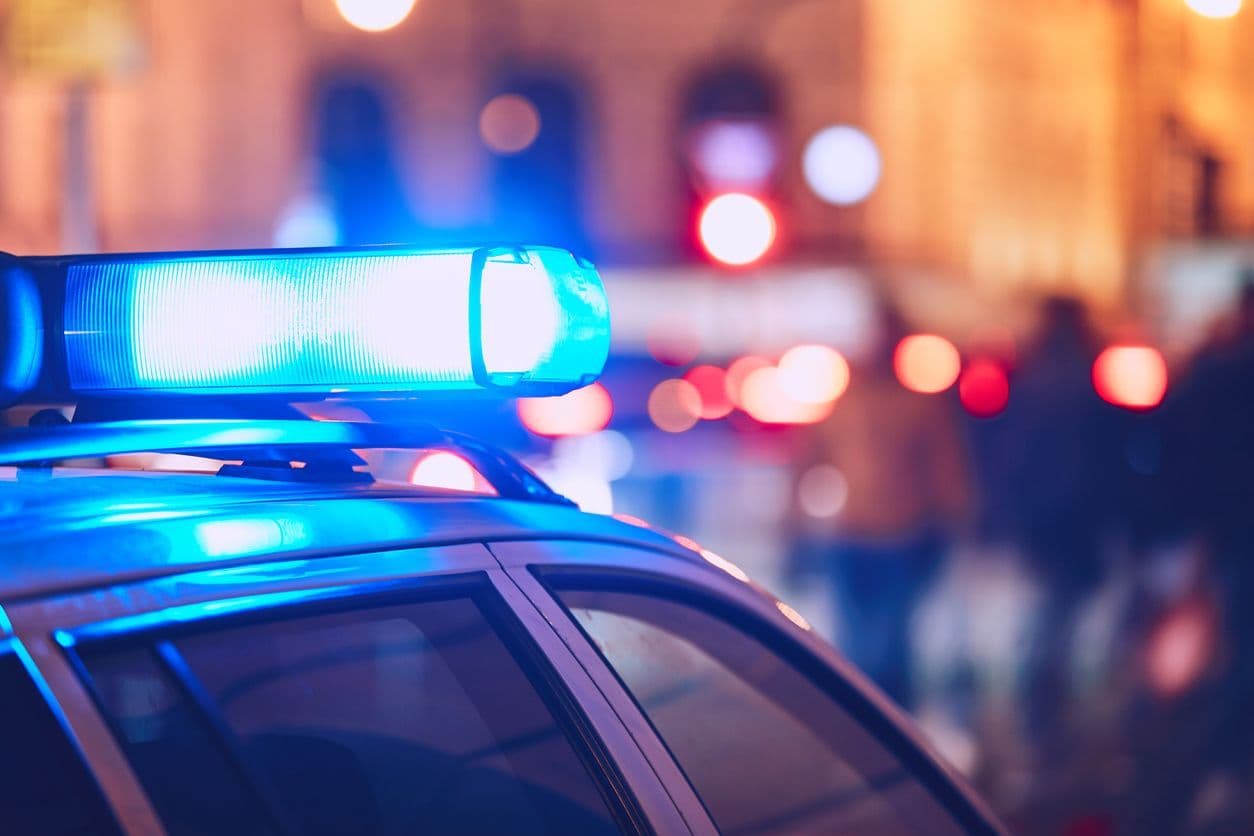 Dorchester County
Violent crime was down overall by 6.5 percent for Dorchester County in 2017 as compared to 1999. In the 3 years preceding 2017, Dorchester County saw an increase in total crime of 16.2 percent and a rise in property crime of 12.1 percent. Additionally from 2008-2017, breaking and entering decreased by 31.5 percent and larceny/thefts increased by 15.1 percent.
Source: Governor's Office of Crime Control and Prevention, 2019

The Dorchester County Sheriff's Department also operates a number of communities policing initiatives, including neighborhood watch programs. The City of Cambridge has received funding under the State of Maryland Hot Spots program. The Town of Hurlock has undertaken a number of activities in recent years to enhance its capability to provide law enforcement in the Town. This includes computerization of its operations, rehabilitation of a building to serve as its new headquarters, increase in staffing, and the purchase of laptop computers. That Department offers a number of community policing functions as well, including D.A.R.E., foot and bike patrol, and Neighborhood Watch. The Sheriff's Department and the Cambridge and Hurlock Police Departments are the only law enforcement agencies in the County with the exception of the Maryland State Police.
Caroline County
According to the Maryland Statistical Analysis Center (MSAC), total crime in Caroline County was down by 47.4 percent in 2017 from its level in 1999. According to the Governor's Office of Crime Control and Prevention in 2017, the last 3 years saw a reduction of violent crime in Caroline County by 46.7%.
Source: Governor's Office of Crime Control and Prevention, 2019
In Caroline County, municipal police departments exist in Denton, Federalsburg, Preston, Ridgely and Greensboro. The County Sheriff's Department is involved in a number of creative community policing initiatives. There are at present 17 Neighborhood Watches with an additional Neighborhood Watch being set up. In addition, a Citizens' Police Academy is in operation in the County, and is targeted primarily to senior citizens, although not limited to seniors. The purpose of the Citizens' Police Academy is to teach citizens safe habits and how to cooperate with the police in ensuring that their lives are unaffected by crime. In addition, the Sheriff's Department operates a program called Reality, which is similar to the D.A.R.E. program in teaching drug and alcohol resistance. Teen Court and TRIAD have also been implemented by the Caroline County Sheriff's Department. Dorchester Violent crime was down overall by 6.5 percent for Dorchester County in 2017 as compared to 1999. In the 3 years preceding 2017, Dorchester County saw an increase in total crime of 16.2 percent and a rise in property crime of 12.1 percent. Additionally from 2008-2017, breaking and entering decreased by 31.5 percent and larceny/thefts increased by 15.1 percent.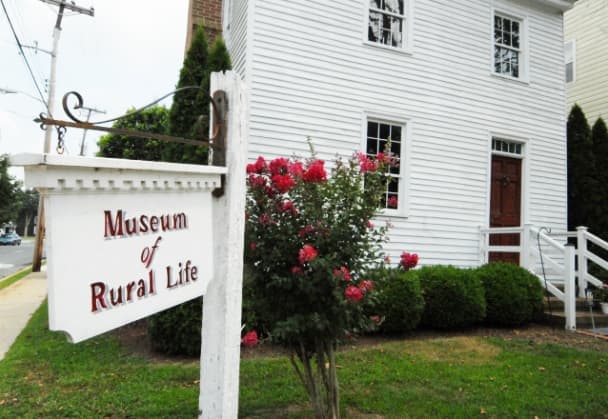 Historic Resources
Historic resources in the Region have been well preserved due to a relatively low level of development and the interest of a number of historic groups in the area in preserving these historic resources.
Caroline County has a wide range of historic resources. Towns such as Denton and Federalsburg have National Register Historic Districts. Heritage-tourism facilities include the Museum of Rural Life as well as the Old Harford Town Maritime Museum. Buildings such as the James Webb Log House are being restored for public use as components of a countrywide, heritage-tourism program. The Choptank and Tuckahoe Rivers Water Trail features the history of two of the three rivers in the County. The Underground Railroad Trail of the State of Maryland traverses the County and highlights the many local connections with Harriet Tubman and Frederick Douglass.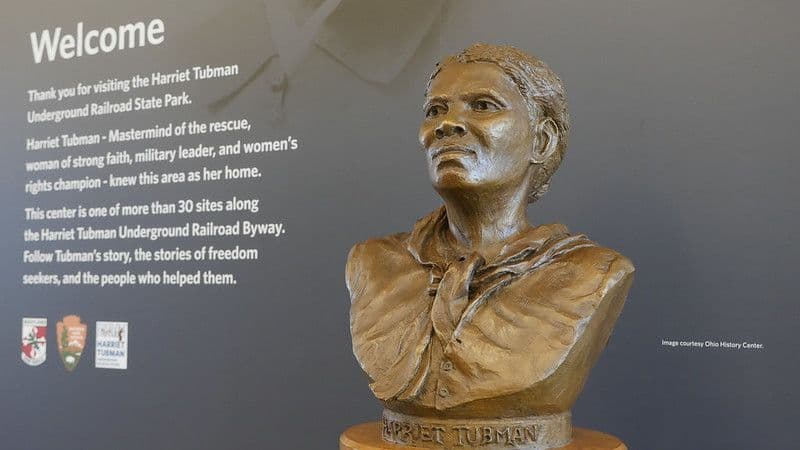 Dorchester County is famous as the birthplace of Harriet Tubman, of Underground Railroad fame. A museum in honor of Ms. Tubman is located in Cambridge. The Town of East New Market is designated as an historic district and is listed on the National Register of Historic Places. The Town of Vienna was a thriving 18th century port. John Smith first landed there in 1608. Besides being a port for international trade, the town was a busy stopover for those traveling by land. Many of the historic and environmental resources of Vienna have survived relatively untouched over the years and the Town retains an 18th century character. The Maryland Historic Trust has identified 16 historic structures and sites and included them in its site inventory.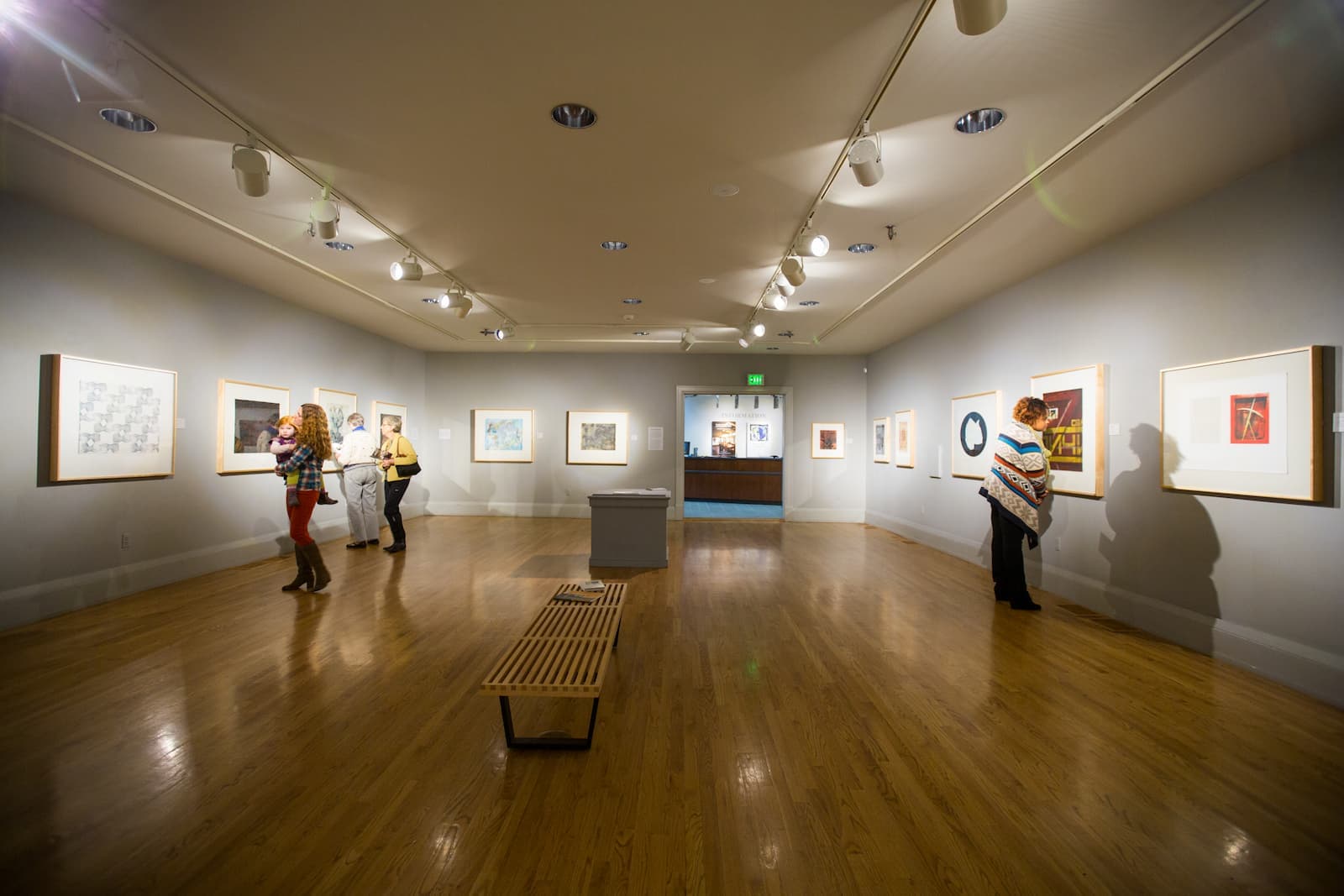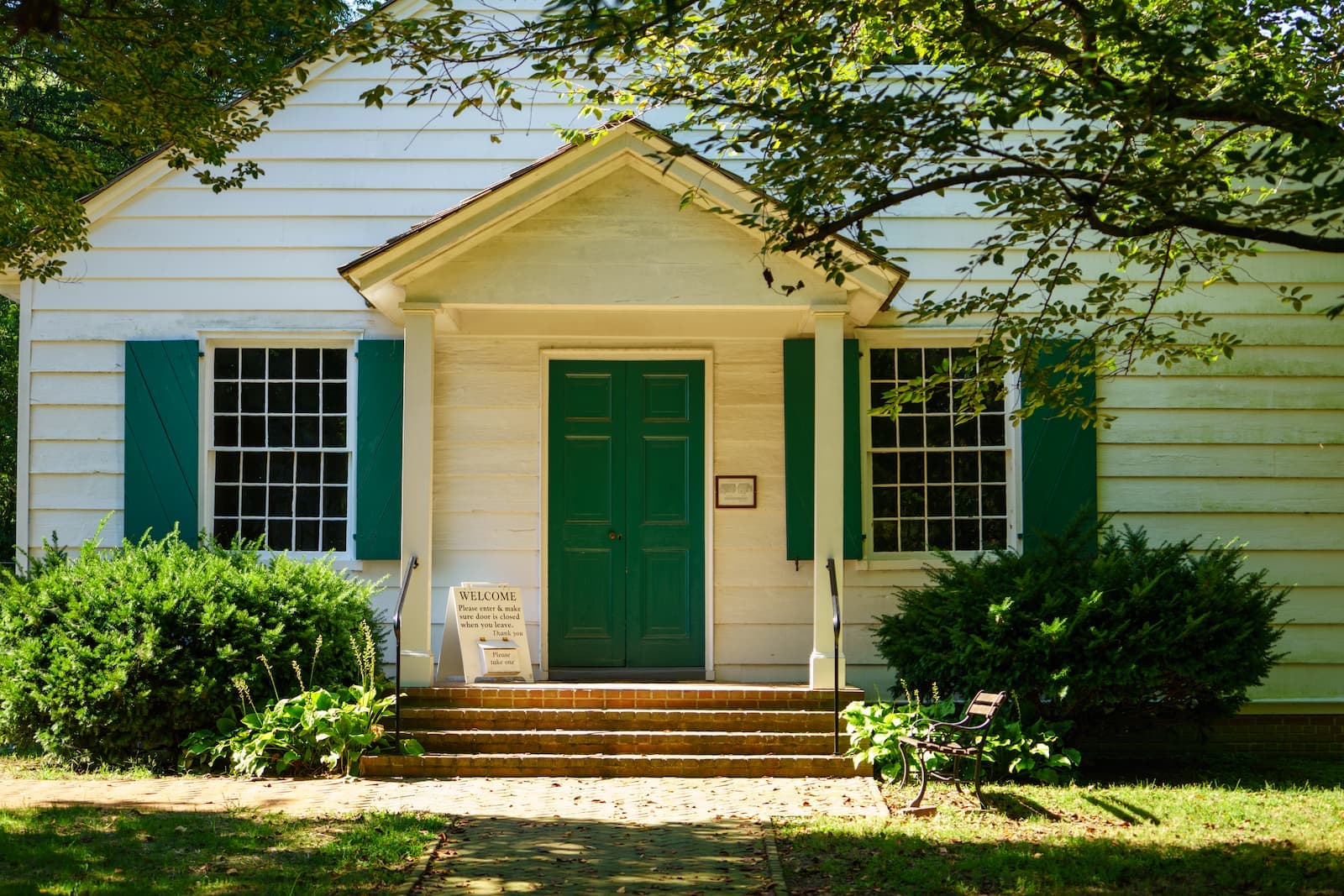 In Talbot County, the Towns of Oxford, St. Michael's and Easton provide a number of historic resources for visitors. Oxford is one of the oldest towns in Maryland and marks the year 1638 as its official founding. Among the historic resources in Oxford are the Robert Morris Inn (c. 1710), Grapevine House (c. 1798), Barnaby House (c. 1700's), Oxford Custom House, and the Tench Tilghman Monument. The Oxford Museum, founded in 1964, houses a collection of relics and memorabilia from Oxford's past. St. Michael's is famous for the role its residents played in thwarting an attack by the British in the War of 1812. There are any number of historic structures standing in St. Michael's, including the Amelia Welby House (c. 1700), the Cottage (c. 1840), the Olde Inn (c. 1870), the Bruff Mansfield House (c. 1798) and the Hooper Straits Lighthouse (c. 1879). The Town of Easton dates to approximately 1682. In 1788, Easton was designated the Talbot county seat, as well as the meeting place of the Maryland General Court. Easton features a wealth of historical buildings.
Historic resources in Easton include:
Academy Art Museum, located in a renovated 1820's schoolhouse
Historic Avalon Theater, built in 1921
Christ Church, built 1840-1844
Talbot County Courthouse
Third Haven Friends Meeting House built in 1682, which is the oldest religious building still in use in the United States and the earliest dated building in Maryland.
The wide variety of recreational and cultural attractions is one of the reasons why the area attracts a large number of visitors and new residents from the metropolitan areas of Baltimore and Washington, D.C.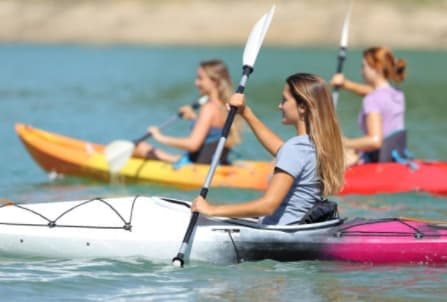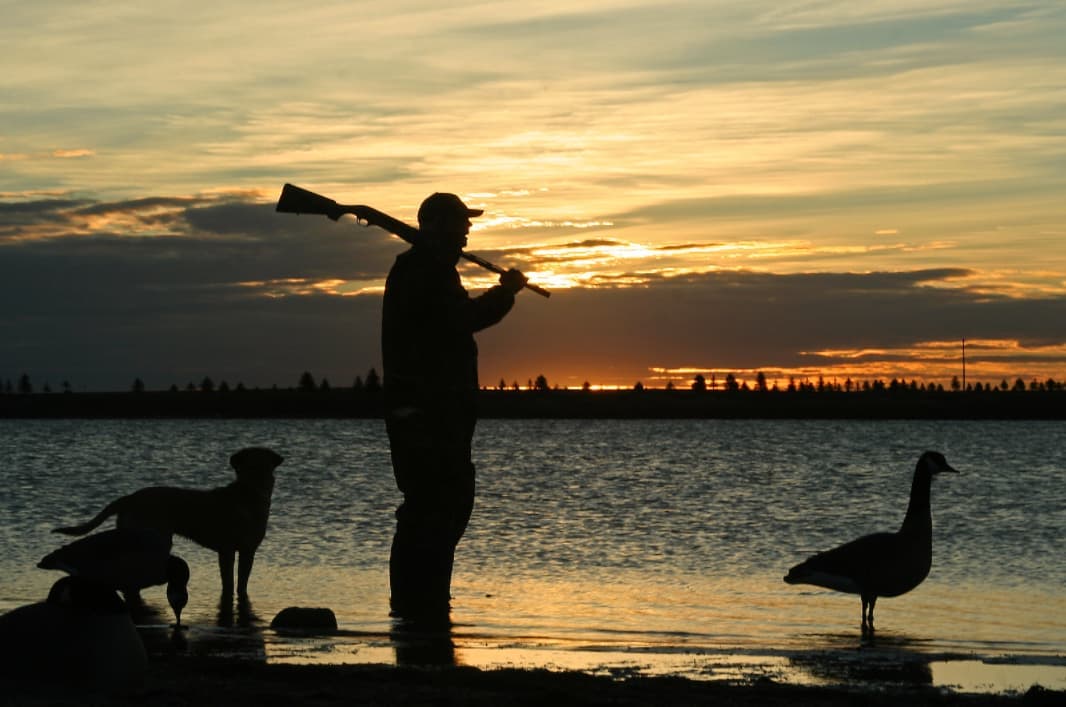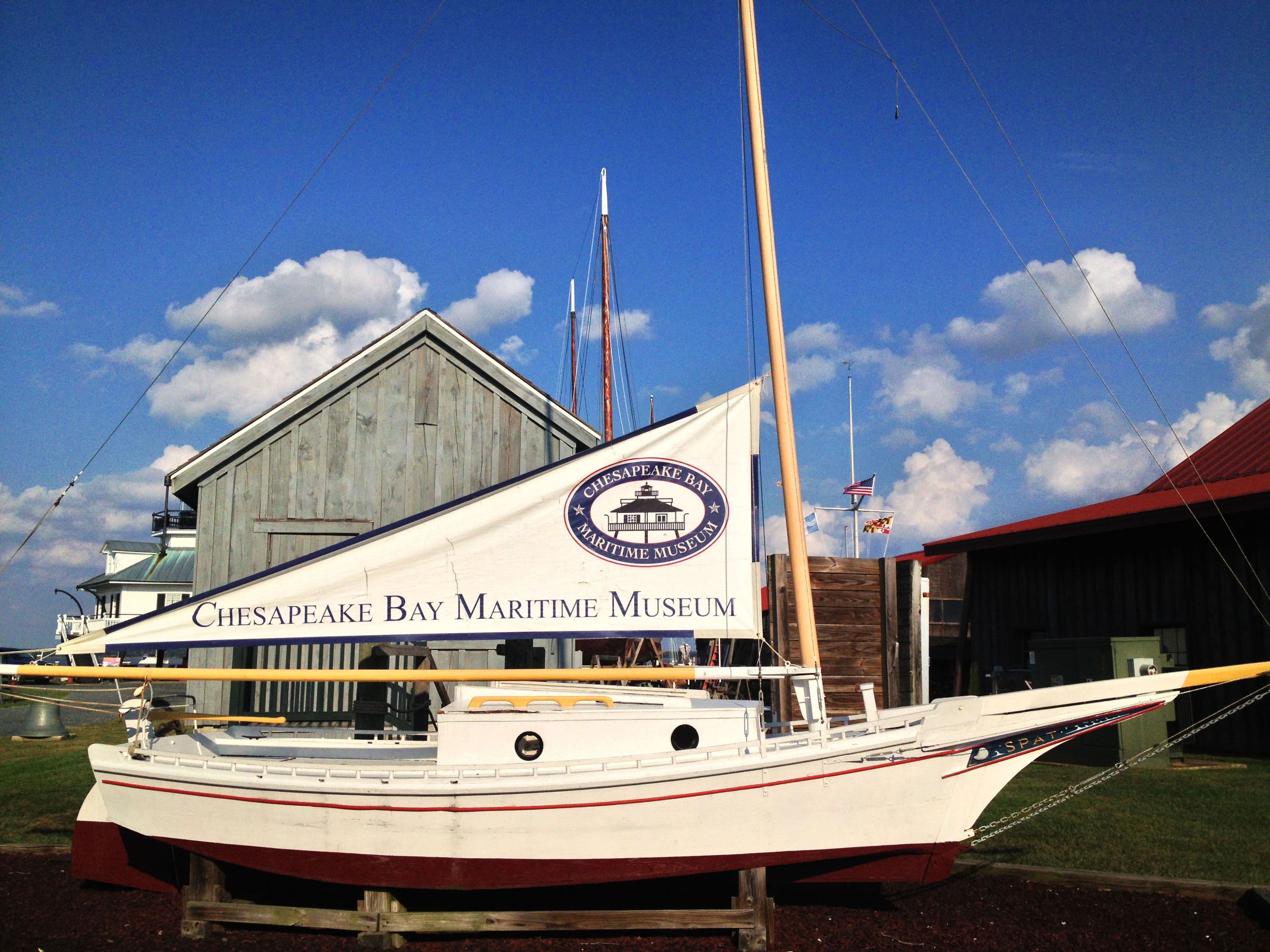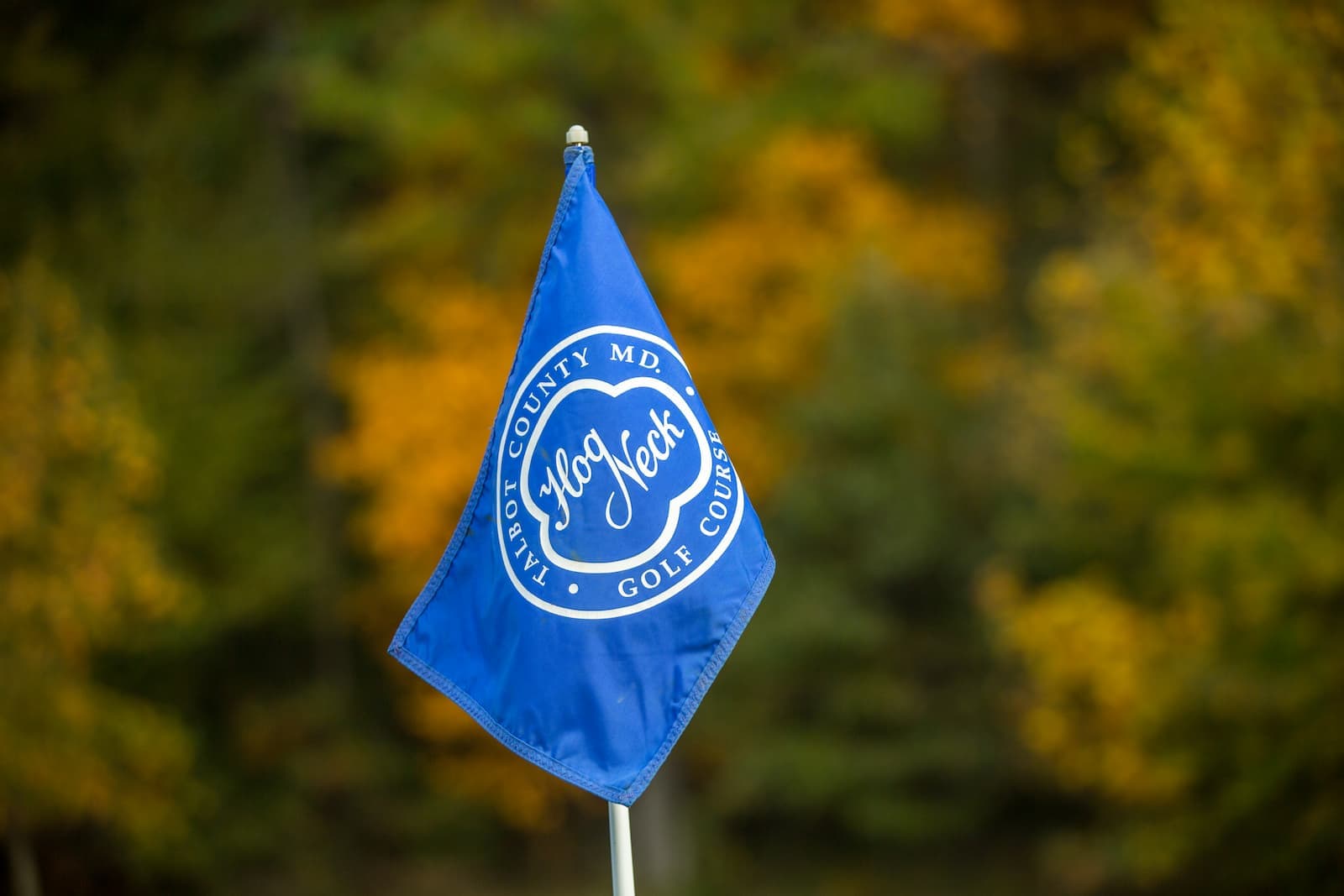 Recreation and Culture
Caroline County's Tuckahoe State Park near Hillsboro provides a 4,501 acre setting for hiking, camping, canoeing, hunting, tennis, golf and fishing. Martinak State Park, a 99- acre park near Denton features camping, fishing, boating and hunting along the Choptank River. Holiday Park near Greensboro has camping, swimming, hiking trails, tennis and shuffleboard courts. Lake Bonnie near Goldsboro offers camping, swimming, fishing and boat rentals. Adkins Arboretum, managed by the Maryland Department of Natural Resources, is a well-attended attraction which draws visitors from throughout the region. Municipal parks in seven towns all offer field sports. The county-owned marina at Choptank has a boat ramp and 70 slips. There is a publicly-owned marina at Federalsburg with a boat ramp and 23 slips and public boat ramps at four locations in the County.
In Dorchester County, there are four wildlife refuge areas including Taylor's Island, LeCompte, Blackwater National Wildlife Refuge, and Fishing Bay Wildlife Management Area. Blackwater draws nearly 500,000 visitors from all over the world each year, which serves as a major stopping point for waterfowl on their annual migrations. There are a number of attractions and museums in the area, including the following in Cambridge: Brannock Maritime Museum, Dorchester Heritage Museum, the Meredith House and Neild Museum and the Richardson Museum. Spocott Windmill, located six miles west of Cambridge on Route 343, is the only existing post windmill for grinding grain in Maryland.
Stanley Institute, also located in the Cambridge area, and referred to as Rock School, is one of Maryland's oldest schools organized and maintained by a black community. The Taylor's Island Museum showcases local and regional antiques and memorabilia. The Vienna Heritage Center is showcasing collections from a button factory on Elliott's Island, which was the last operating button factory in the United States.
Talbot County offers sailing, boating, swimming, fishing, water skiing, hunting, golf, and tennis. The Waterfowl Festival, held in the second full weekend in November each year, draws 20,000 people annually to Talbot County. Recreational facilities in Talbot include county and municipal parks, playgrounds, launching ramps for boaters, the YMCA, Talbot County Community and Recreation Center, and the Talbot County Agricultural Center. The Chesapeake Bay Maritime Museum showcases the region's maritime heritage, attracting over 80,000 visitors per year.
Hog Neck Golf Course is rated among the top 25 public golf courses in the United States. The Easton Club is a public 18-hole championship course that opened in 1995. There are two private golf courses, Talbot Country Club and Harbourtowne Golf Resort. The twenty-acre Wye Oak State Park offers many popular outdoor activities.
Be A Star Youth Sports and Cultural Arts Center and The Kwanzaa Foundation Festival held the second Saturday in December and a community Kwanzaa Celebration held generally December 27 (the second official day of the Kwanzaa Holiday).